YES! Post-Frame Buildings can be built in cold weather months. Read on to learn why this is a smart move for you and your wallet!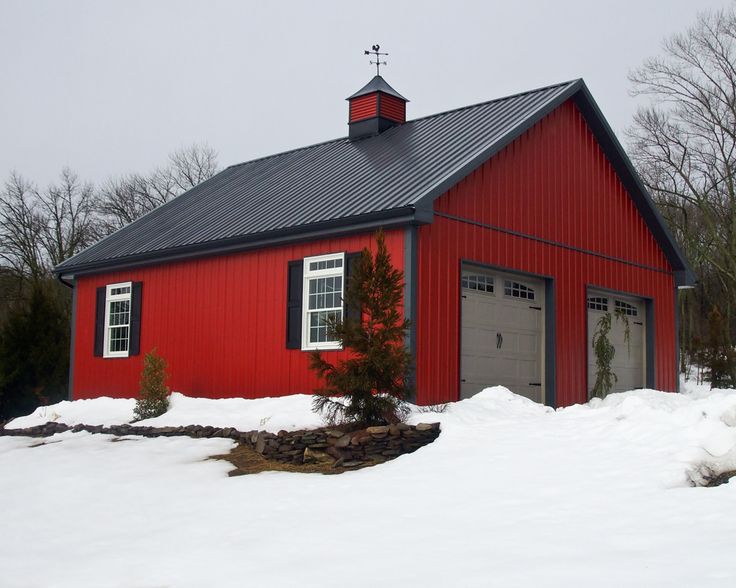 Fall is in full swing and winter is close behind. Like most post-frame building companies, this is the time of year where things slow down as many do not view this as an ideal time to build. Though, it is a myth that pole barn companies either will not or cannot build during the cold season. This is a great time to not only start planning and ordering your custom post-frame building package but to actually have it built.
Unlike other forms of construction, metal pole barns do not use concrete foundations. This is the key reason why constructing post-frames in the winter is possible. Pouring concrete is a difficult task to complete in the cold and the frigid temperatures can be detrimental to the concrete curing stage. Post-frame buildings use treated wood posts or pre-cast concrete posts for their support and foundation, both of which are minimally affected by winter weather. Though, if you do go forward with building this winter it is always ideal to have a flat building site in mind before the first heavy frost.
These unique pole barn building methods provide many advantages.
Money Savings: Contrary to belief, cold temperature isn't a deterrent for post-frame builders. These workers are generally looking for more jobs in the winter and will offer you even greater competitive pricing. Same for post-frame building manufacturers like ourselves.
Greater Skilled Labor: Pole barn builders are skilled tradesmen, but the lack of building in the winter means they can be a little rusty come spring. Your pole barn will still be structurally sound and beautiful, but it may take a little longer for completion. Year round work for post-frame builders ensures the best-trained team working on your pole barn project.
Time: Wouldn't it be nice to start your other projects right when spring hits instead of worrying about building a pole barn? Take advantage of the slower season and gain some time!
Even if you are against building in the winter, it is still a smart idea to begin the planning and ordering process. This will give you more time to:
Save additional money to devote to a bigger and better build (if needed)
And to figure out all the details, from design to site preparation
Additionally, our post-frame representatives can allocate even more time and energy into cultivating new ideas and alternatives for your pole barn project. Trust the top pole barn company in Kentucky & Illinois and give us a call today to get started!