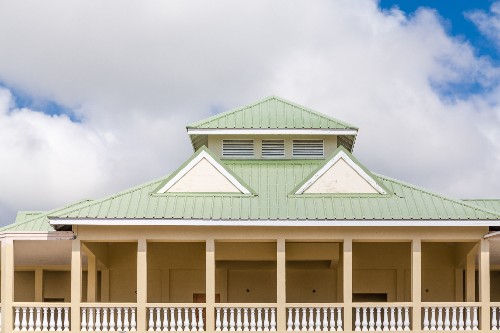 Nowadays, corrugated metal roofing comes in galvanized steel in several forms. Customers can choose from U, V, ribbed, and other styles for their metal roofs. Each of these styles will be held firmly in place by exposed screws with streamlined coloring blending the overlap.
The rest of this post will go over a few of the many benefits of metal roofs for residential homeowners.
Long Life Expectancy
A metal roof installed by professionals has life expectancies as long as that of the house. Home metal roofing can prevent extra water from getting inside and causing structural issues. Warranties will vary depending on the materials and the installer. Most times, you will find warranties between 30-50 years.
Lightweight Materials
Tile roofing can be in the neighborhood of 750 pounds per square. Metal roofing, on the other hand, is somewhere between 50-150 pounds per square. The lightweight nature of metal roofing can help you save on building supports necessary to keep your structure sound. In most cases, homeowners can reduce the roof supports for their overall structure. Another pro about metal roofing being light is that it can often be added on top of an existing roof with a tear-off.
Fire Resistance
As you might imagine, metal roofs aren't combustible or flammable. In fact, they often rate toward the top of the fire-resistant categories. Make sure your installer considers the materials underneath the metal panels as they will factor into your roofs' overall rating for fire-resistance.
Top Snow and Rain Runoff
Metal roofs are just about impervious to snow, rain, and precipitation. The interlocked panels make the surface hard and slippery, promoting runoff. For even better results in the winter, consider choosing dark color tones to capture sunlight and melt the accumulating snow.
Stay Safe from the Heat
Speaking of your roof and heat, the metal material of your roof will reflect heat from the sun. This heat-resistance will drop your need to crank the AC up during the hottest parts of the day. Though metal roofs don't have great insulation, you can add rigid-foam insulation under it to prevent temperature exchanges with the outside.
Choosing the right metal roof installer
No matter your reason for choosing metal roofing for your home, this option provides several benefits for you and your family. Make sure to gain all these benefits and more by choosing a professional company to ensure your roof gets put together correctly. The experts at Mansea Metal have the experience and knowledgable crews to give you a metal roof that will last for years to come.