Original article published 9/23/15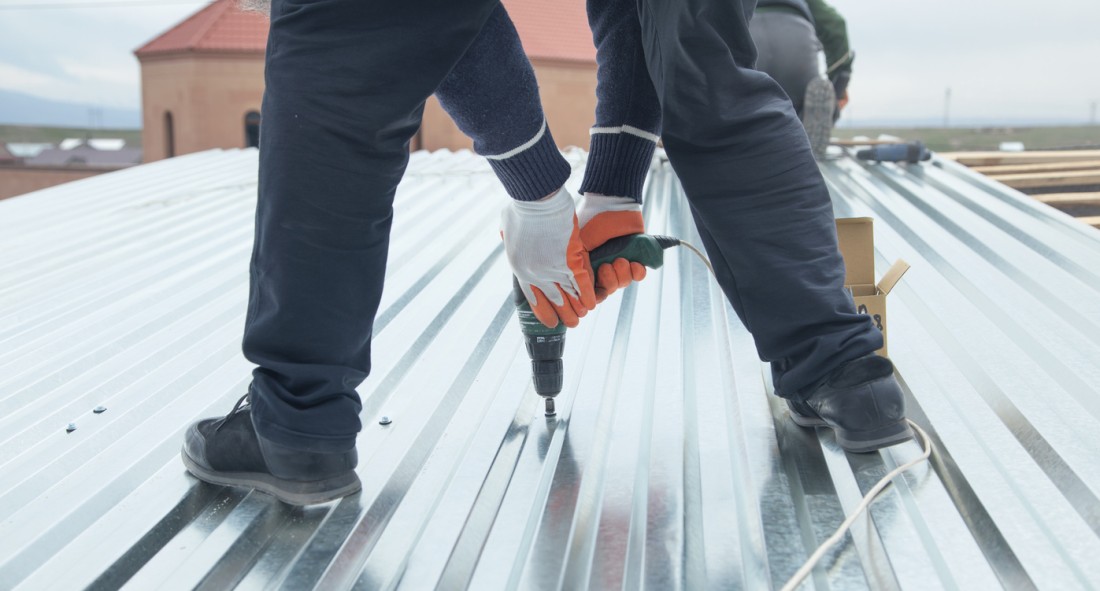 We receive many questions regarding the best time of year to buy metal building materials. As one of the top metal roofing, metal siding, and post frame building kits in Kentucky, fall is our busiest time of year. Though, each season has its advantages and disadvantages. While we can fulfill most orders the next day, we have created a seasonal guideline highlighting the best times to perform certain tasks. Of course, you can complete these tasks sooner or later; within one season or four—the best schedule is really up to you!
Post Frame Buildings and Roofing
Winter is a great time to begin your planning and prepping. Find a roofing and/or post frame construction company that knows how to work with high-quality metal panels. In addition, contact a Mansea Metal representative to begin the ordering process. Our representatives will meet with you and help you figure out the best metal roofing option for your project.
Spring is the perfect time to begin preparing your landscape and work area for proper installation. For pole barns and post frames, it is ideal that the landscape is clear of clutter and high greenery. If digging is to take place, make sure you call the city to ensure that pipes and lines will not be an issue. For metal roofing and metal siding, contact your metal roof contractor to ensure that there are no underlying structural issues that must be addressed first.
Get Your Roofing Done Before The Season Ends!
Summer
Summer, although hot and humid, is the best time to start building your project! Depending on your metal roofing, metal siding, steel, and/or post-frame building contractor, your project should be completed before the end of the season—just in time for enjoyment! Not to mention, if you live in an area with severe weather conditions, starting your project in the summer will allow you to take advantage of the milder temperatures and avoid any potential delays due to bad weather. So don't wait—get started on your project today! You'll be glad you did come autumn. We offer roofing services for any popular option such as:
Riding Arenas

Horse Barns

Commercial Structures

Agricultural Buildings

Garages

Residential

Pole Barn

Storage Spaces

And More!
Fall
As stated, fall is our busiest season. We have realized that fall is the perfect season to finalize your contractual obligations and even sneak those last-minute projects in before colder weather hits. In addition, the cooler temperatures make it easier and more comfortable for workers to replace your roof. Fall is also a good time to replace your roof if you live in an area that is prone to severe weather, as a new roof will be better able to withstand high winds and heavy rain or snow.
Overall, there are many benefits to replacing your roof in the fall, so don't wait until spring to get the job done. We understand how hard it can be to make the right choice. That's why we're committed to helping you find great roofing solutions that are suitable and cost-effective for homeowners and commercial buildings.
Winter
With the exception of winter (unless you're lucky enough to live in a warm climate area), any season can be utilized for any or all of these tasks! Roofs take a beating during the winter months. Snow and ice can damage shingles, while wind and freezing temperatures can cause leaks. As a result, many homeowners find that their roofs need to be replaced sooner than they had anticipated. While this may seem like an inconvenience, there are actually several advantages to replacing your roof in the winter. For one thing, roofing companies typically have more availability during the off-season. This means that you won't have to wait as long to get your roof replaced.
Additionally, winter roof replacements can often be completed more quickly than those done in warmer months. In addition, the cold weather can actually provide a benefit by helping the new shingles to adhere more securely to the roof. Finally, replacing your roof in the winter can help you avoid unexpected repair bills later on. By proactively replacing your roof before it fails, you can save yourself both time and money in the long run.
Contact Us Today!
Whether you are looking for home roof replacement or custom post-frame building packages at the right price, don't settle for less than Mansea Metal!
If you would like more information about this topic, please call 859-744-4475 or email Olivia@manseametal.com.