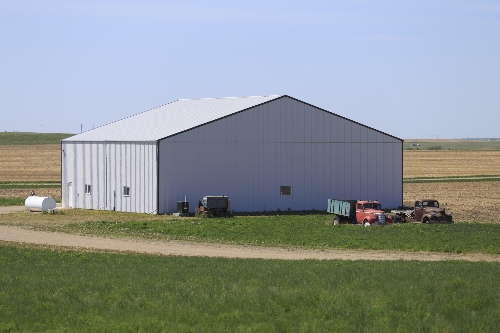 Choosing is never easy. When you need to select the right building for your needs, it can be tough to compare one style against another. At Mansea Metal, we want you to have all the facts when making your building decisions. Here's a comparison between post-frame (Midwestern Buildings brand) structures and steel frame structures to help you decide.
How Flexible is the Design?
Post-Frame/Midwestern Buildings offers roof pitches that range from 3/12 to 8/12 designs. Having this many options ensures you'll be able to match any buildings you already have.
Steel Frame has a smaller range of options for roof pitches.
What is the Foundation?
Post-Frame/Midwestern Buildings need a level site to build on - that's it! Take care of any ground irregularities you're all set for construction.
Steel Frame is heavy and requires reinforcement. Steel buildings require a concrete foundation, increasing your overall cost.
How Much Building Material?
Post-Frame/Midwestern Buildings have a simplified design using fewer materials per square foot of building space.
Steel Frame requires more materials to cover the same amount of space you'd get with a post-frame structure.
What are the Remodeling Options?
Post-Frame/Midwestern Buildings require simple tools for most remodeling projects for your pole barn.
Steel Frame buildings are more difficult to remodel; most requiring welding.
How About Insulation?
Post-Frame/Midwestern Buildings have wall cavities up to eight long feet that can hold six inches deep of fiberglass insulation. Attic space can hold up to a 14-inch thick batt of insulation.
Steel Frame designs force insulation to be compressed between the roof purlins and wall girts.
The Differences Ad Up
These are the primary differences between post-frame and steel frame buildings. And, if you need help with installation, we partner with many local contractors so you are assured of fast, quality construction.