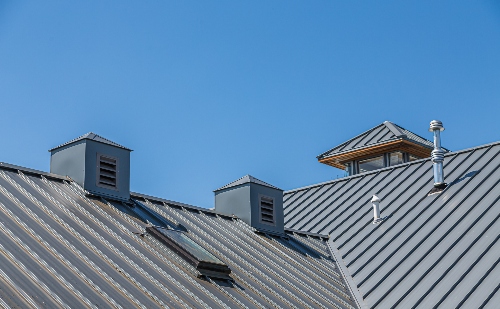 Looking to replace your roof is no easy task. There are many factors to consider to make sure you get what you need from a purchase that should last a long time. Two of the most popular types of roofing materials are asphalt shingles and metal. But how do you know which is right for you?
Keep reading to learn more about the benefits of metal roofs and asphalt roofs so you can make an informed decision.
1. Lifespan
Metal Roofs - A standard metal roof will last around 40 years. Zinc and copper roofs can go strong for even longer!
Asphalt Roofs - Most asphalt shingle roofs hold up between 12-20 years.
Advantage: Metal
2. Durability
Metal Roofs - Metal roof durability is one of its greatest benefits. Steel roofs usually won't show wear and tear for decades. Extreme weather such as hail, snow, and ice roll off the surface of metal roofs.
Asphalt Roofs - Asphalt takes a pounding in extreme weather. Shingles can be blown off in high winds and hail can crack parts of the roofing
Advantage: Metal
3. Fire Resistance
Metal Roofs - Metal roofs are noncombustible, making them great where fires are prone.
Asphalt Roofs - Asphalt is combustible and will catch on fire.
Advantage: Metal
4. Maintenance
Metal Roofs - When installed by professional contractors, metal roofs will need little maintenance work (check with us for a suggested contractor in your area). Just make sure to clear the gutters and do a visual check from the ground.
Asphalt Roofs - Asphalt roofs will need seasonal inspections and shingle replacements from time to time.
Advantage: Metal
5. Installation Complexity
Metal Roofs - Metal roof installation is not easy. This complicated process takes a more skilled and experienced contractor to install.
Asphalt Roofs - Asphalt shingles are relatively easy to install, when you know what you are doing.
Advantage: Asphalt
6. Weight
Metal Roofs - Don't let the name fool you. Metal panels are lightweight, so they are easier on your structure.
Asphalt Roofs - Asphalt shingles can end up being heavy and weighing down your home, pole barn, or garage.
Advantage: Metal
Choosing the Right Material for Your Roof
There you have it. Each material has its perks, and in the end, you will need to weigh the options for you and your family. Mansea Metal produces exceptional metal panels used for roofing, siding and more. If you decide to purchase a metal roof, we can make your experience easy by connecting you with contractors who will install it for you.