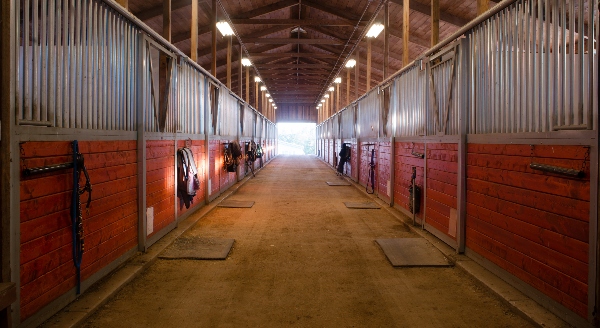 Having horses in your life is an incredible experience. Whether you work with horses professionally or horses are a part of your personal life, finding the right place for them to live can be difficult and expensive. Have you ever considered having an equestrian pole barn to house your horses?
Identifying your needs for an equestrian pole barn is the first step in designing the layout of your new building. Consider if you will need an office, grooming area, and washroom, among other things.
This article gives tips about everything you wanted to know about building an equestrian barn for your horses.
1. Bigger is Better for Stalls and Aisles
You want to aim for about 12' by 12' for your horse stalls. Ponies might fit in a space that is a little bit smaller. No matter the size of the animal, make sure they have enough room to lie down, get up, and turn all the way around.
Similarly, your aisles should provide enough space for people and animals to move around. Again, 12' is a good distance for the aisle. This space will provide the room to saddle horses, move any necessary parts in or out and move animals from stall to stall.
2. Include a Wash Bay for Your Horses
Animals and humans both need to get cleaned up. A brushing after a ride is important, but it is equally important to wash your horses. Provide for them completely with a wash bay in your equestrian pole barn. Keeping a wash area indoors also allows for cleaning during all times of the year. Make sure you will have the following for your wash bay:
Flooring options
Drainage
Water
Electricity
3. Consider your Air Ventilation
Making sure your horses have proper ventilation could prevent serious harm to their health. Manure odor and moisture removal are necessary as well. Invest in a quality ventilation system. Make sure to consider your overhangs, doors, windows, and fan situation.
4. Don't Forget a Tack Room
Don't forget about your supplies. An equestrian pole barn is more than just a place for your horses to sleep. This will be your place to store all their supplies. Make sure to plan on having a tack room. This room will be your spot to keep brushes, blankets, saddles, and more. Make sure to keep this room sealed to keep the dust out.
Get the Right Materials for Your Equestrian Pole Barn
The tips above will help you set up your equestrian pole barn for long term success. Make sure to think beyond the horses stalls to everything they will need. Mansea Metal creates the panels for pole barn siding and roofing that you will need for your horses' home. We also have a collection of trusted contractors we can recommend for your project.