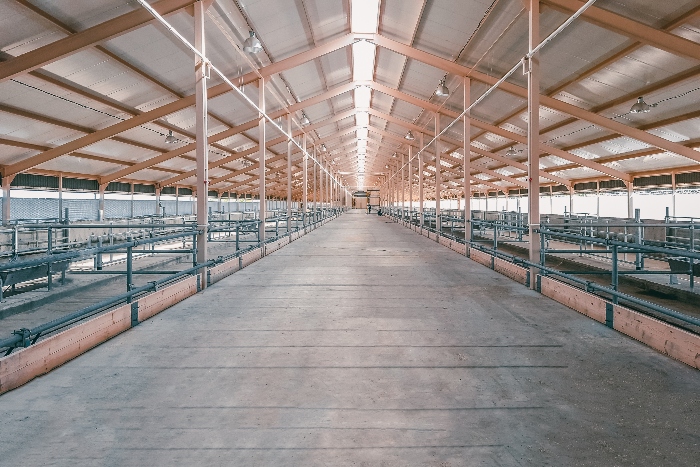 Have farm equipment? How about a workshop on your property? Or maybe you have an RV or recreational vehicle you need to store?
All of these needs and more can be satisfied with a pole barn.
Owners of pole barns, or Midwestern Buildings as we call them, fill their enclosed space with all sorts of tools, equipment, livestock, and more. With each of the dedicated uses for pole barns comes the need for a different type of flooring material. The type of flooring you choose for your pole barn depends on your style, budget, and the way you will use your barn. Keep reading to learn about the different flooring options for your pole barn.
1. Concrete Flooring
Concrete flooring is one of the most popular flooring options for pole barns. Owners will notice less dust and moisture in their pole barns with this flooring. Concrete makes a great base for keeping your floor level, clean, and easy to remove any new dirt or debris.
Concrete flooring is best for: Agricultural, livestock (between stalls), and storage barns.
2. Gravel Flooring
Erosion is a problem for all structures. Gravel can slow the erosion of dirt and even help whisk away moisture. Please note, periodic leveling or addition of new gravel may be necessary.
Gravel flooring is best for: equipment or other material storage.
3. Stone Flooring
This attractive flooring option provides what all barns need - strength and durability. Instead of dirt or even gravel giving way while moving materials or equipment, stone will be a stable option for you. Stone also adds to either a modern or rustic aesthetic.
Stone flooring is best for: residential living or equipment storage.
4. Dirt Flooring
Raised storage is a common use for pole barns. Many owners find that if they set their building up with the right storage levels, they can use dirt flooring - making this one of the most affordable options. You can always add a different flooring option later if you find your needs require more stable flooring. This choice is especially attractive for first-time pole barn owners.
Dirt flooring is best for: equipment, material, or wood storage.
5. Livestock Mat Flooring
There are many animal home options for pole barns, including equestrian or horse stalls, poultry coops, and other sorts of livestock. Livestock barns need additional focus on the sanitary needs of the animals. Mixed with their need for cleanliness is their need to be treated like living creatures. Livestock mats can include rubber, special types of concrete, and other synthetic materials.
Livestock Mat flooring is best for: you guessed it, livestock.
Find the Right Materials for Your Pole Barn Siding and Roofs with Mansea Metal
We hope the above flooring options help you to find the best option for your pole barn. Here at Mansea Metal, though we don't do flooring, we specialize in manufacturing top quality metal panels for your pole barn's roof or siding. If you need a contractor to install our materials, we have contacts with many professionals we have grown to trust over the years.