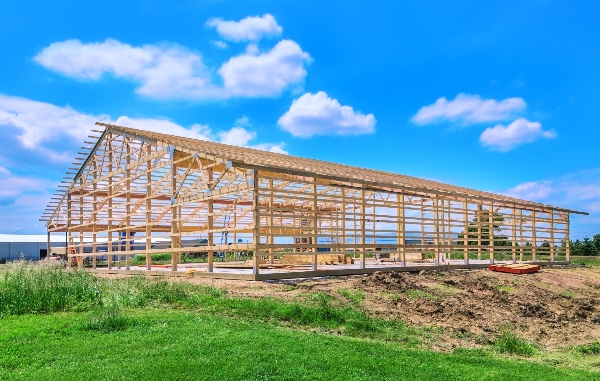 Have you ever wanted to do a project but didn't know where to start?
That can be the worst. You have the drive and goal in mind but no plan to make it happen. We hear this all the time from our clients - they want a pole barn to live in, use as a storage space, or use for many other things, but they don't know where to start. You have come to the right place!
Here at Mansea Metal, we fabricate and bundle top quality sheet metal to be used for pole barns. Keep reading this article to learn what you need to know about finding your contractor to build your pole barn.
1. Communication, Communication, Communication
Did we mention communication? Having clear, direct, and honest communication with a potential contractor will end up saving both of you time and money. Look for how quickly a contractor responds to your request for information, calls, or emails. Understand that they may be busy, but they should get back to you with some timeline within a few days. If not, it is a bad sign that they may be unresponsive when there is a problem.
2. Experience is a Key Differentiator
There are some jobs you can "fake it 'til you make it," but building is not one of them. There is a clear difference between those who have years of building experience and those who don't. Additionally, look for a contractor who specializes in pole barn construction. This niche may not be as common, but when you find the right one to work with, you will know the difference in your new building. Look for the frequency of pole barn projects they complete.
3. Word of Mouth Matters - Get Those References
Everyone is going to talk themselves up, but how do their customers think of them? Reading reviews from actual customers can be very telling of how it is to work with a contractor. Many of the reviews will just be "Great work," "Very Pleased," or "I'm happy with the work." These are good points, but look for the longer descriptions. Here at Mansea Metal, we are proud of our reviews and what our customers have to say about our work.
4. Take the Time to Research Your Contractor and Pole Barns in General
Make sure to do your research and learn as much as you can about pole barns. With that info in mind, you will be able to ask better questions of potential contractors. Be observant of their behavior while you ask them questions. Look for professionalism and teamwork among the staff to build trust in their work.
Get the Best Pole Barn by Getting the Best Materials
Finding the right contractor can be tough, so make sure to follow our steps above. Overall, do your homework and trust your gut. No one will be perfect, but many can get the job done. Here at Mansea Metal, we create the top quality metal panels you will need to get your pole barn off the ground. We also have a list of contractors we can recommend for your project, no matter your goals. Give us a call today to chat about your project.