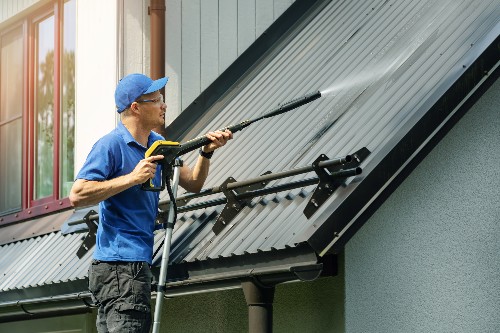 Metal roofs are one of the longest-lasting types of roofs on the market. The lifespan of a metal roof, if properly installed, will typically extend beyond that of just about any other material. Another wonderful quality of metal roofs is that they need very little maintenance.
However, there are some steps you can take to keep your metal roof at the top of its game. Many types of roofs will benefit from these tips, including your metal roof. Keep reading to learn more about the top five maintenance steps you can take to keep your metal roof performing at its best.
1. Stop Trees from Scratching Your Roof
The wind is just annoying until it moves objects around. When the wind causes tree branches or bushes to scratch against your metal roof, they could cause dents, cuts, or other damage to the metal roof. If left untreated, your metal roof's resistance will be worn down until it no longer protects your building in that area. Trim your trees and bushes regularly.
2. Clear Loose Debris
Fortunately, rain and even snowstorms clean off your buildings. Precipitation can help clear leaves, branches, and other debris from your roof. Some standard window cleaning brushes that have soft brushes can help clear debris without scrapping your roof. Make sure not to spray water underneath the edge of your roof as that will cause water damage on the inside.
3. No Walking on the Roof
Try not to walk on your metal roof. It can take a few steps, but the more you walk on it, the more damage it will take. Check out the manufacturer's recommendations for walking on your metal roof if you need to go up there, especially if you need to be up there regularly.
4. Clean Your Gutters
Make sure your gutters are also free of debris. If left alone, debris in your gutters can cause problems for even metal roofs. If debris blocks your gutters, then the pooled water can cause your roof to rust or corrode instead of living its good, long life.
5. Keep the Paint Away
Spray paint is the worst on a metal roof. If you hire a painter, make sure they stay away from your metal roof. Paint can ruin the finish of a metal roof and cut down on its lifespan.
Setting up a Strong Future for Your Metal Roof
Make sure to follow these tips to keep your metal roof looking and functioning beautifully for years to come. Having a great metal roof starts with proper metal roof installation.
Mansea Metal can recommend a responsible, professional company to do your installation. As a manufacturer, we work with many quality builders and contractors and will help you select the one that best fits your needs.
Give our team at Mansea Metal a call today at our closest location to you.