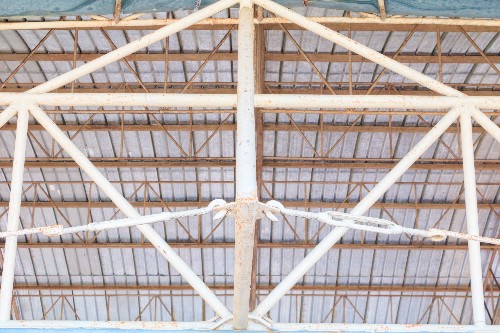 Winter is here, and the cold won't be letting up anytime soon. No matter how you feel about the cold weather, we can all agree that paying extra on the energy bill is no fun. There are steps you can take to keep your home warm, including sealing doorways, hanging thick drapes, and closing off unused rooms. But what should you do to stay comfortable in your post-frame building or pole barn?
Especially if you spend time daily in your hobby shop, farm shop, or other pole barn, keeping it at the right temperature year-round is important. Pole barn insulation will help you prevent heat loss and save money in the long run. Keep reading to learn what you need to know about pole barn insulation, including the importance of R-value and the main types of insulation.
The Importance of the R-Value
Contractors needed a way to speak a common language about insulation. They came up with the R-value. The R-value is a measurement of an insulation's ability to resist heat flow or conduction. Greater resistance comes from higher R-values. The R-value of a pole barn also changes based on the:
Type of heating and cooling system
Climate of the area
Size of your pole barn
To get the most out of your pole barn's insulation, make sure to work with an experienced professional pole barn contractor. Hint - we can recommend a professional builder to install your pole barn insulation.
Area #1: Perimeter Slab
Let's start from the bottom. Your pole barn probably sits on a concrete slab that forms one layer of separation between the building and the ground. Insulating the perimeter of this slab will help you protect the building's R-value and keep heat inside your building. Make sure to check how high the water table is as that will impact your building's heat loss.
Area #2: Wall Insulation
Metal walls are a major source of potential heat conduction. Look for the following types of insulation for your pole barn:
Vinyl Back – Vinyl back is fiberglass that includes a vinyl backing on one side.
Single Double Bubble – Single and double bubble insulation both function the same way. Both utilize the principles of air space and radiant barrier to stop heat transfer from one surface to another.
Area #3: Attic Insulation
Headed up, let's look at the attic, the top of the inside of your pole barn. You'll need to have drywall or steel with your attic insulation. Most people choose fiberglass or blown insulation for their attics. For blown insulation, you will most likely need to work with a contractor to make sure it is correctly installed.
Area #4: Roof Insulation
An insulated roof can be a game changer. Many people find an insulated roof to be an inexpensive option when compared to the interior lining with attic insulation. Most builders will install the roof insulation under the roof sheathing. This type of insulation works well with forced air as it catches the heat trying to escape at the top of the building.
Getting the Right Metal for Your Pole Barn
There are many factors to consider when planning out your pole barn. Insulating your building will help you stop heat loss giving you options to use the building year-round in comfort. Mansea Metal can provide you with the rugged metal in more than 20 striking colors and quality lumber you need all across Kentucky, Illinois, Indiana, and Ohio. We can recommend one of our many partner contractors to work directly with you so it makes the building process go easier.