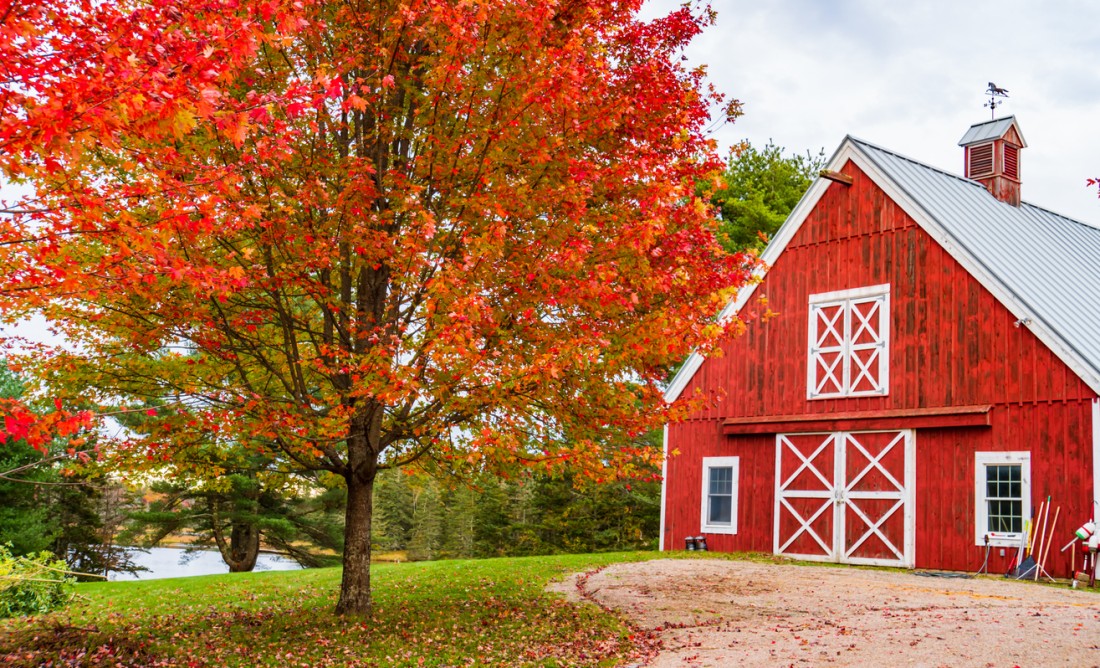 Finding extra space for your belongings or an area designated to your hobbies and interests can be difficult as a homeowner. Your home is only equipped with so much square footage before it begins to feel cramped and unlivable. Thankfully, we have a solution—pole barns! A pole barn is a large agricultural structure with no basement, a high ceiling, and wide-open spaces—empty and ready for your vision to come to life.
Whether you have an old, existing barn on your property or have enough space to build an entirely new structure, turning this additional square footage into a man cave, she-shed, or entertainment space is completely possible with Mansea Metal. Let's take a look at how you can create the space of your dreams!
Start With a Vision
First things first—define your vision. Do you want a space for the kids to play basketball or soccer? An adults-only bar to entertain friends after the kids have gone to bed? How about a space for you to simply breathe and read a book in peace? All these ideas and more are fully possible with an existing structure or a new-build pole barn.
Your vision for the multi-use living area should reflect your personality and interests. Determine the overall goal of the space and how you want it to make you feel the moment you walk in. Some potential ideas for your pole barn include:
Game Room

Home Theater

Workspace

Home Bar

Studio
Develop a Plan with a Professional
Now, here comes the fun part—blueprints, game plans, and building material selections. If you already have a pre-existing barn or structure on your property that you want to renovate, it's important to lay out all possible outcomes. These renovations could include, but aren't limited to, restructuring the foundation and walls and installing a new roof. For a complete new-build structure, you'll want to ensure you have the land cleared, concrete poured, and a safe and secure frame and roofing structure so the building stays standing for years.
At Mansea Metal, we are committed to helping you bring your vision to life. We have been manufacturing quality metal roofing, siding, and post-frame buildings for the agriculture industry for over a decade. We'll work with you to determine a construction plan that meets your needs and doesn't break the bank.
Get to Decorating
Once the pole barn is built, walls are painted, and flooring is in place, the only thing left to do is get creative! There are endless possibilities for your newfound square footage. Here are a few ideas to get the creative juices flowing and the decorating started.
Set up a bar with a beer fridge, bar stools, and televisions

Use a smaller shed space as your own personal oasis to journal, paint, read, or do yoga

Create the ultimate movie theater for the whole family. Complete the vision with a floor-to-ceiling projector, popcorn machine, and comfortable lounge chairs

Practice outdoor activities all year round by designing a basketball court or soccer field

Soundproof the room and make it a prime spot for composing music and jamming out with friends as loud as you want

Fill the space with power tools and workbenches to create the ultimate woodworking shop
Post-Frame Construction with Mansea Metal
However you decide to decorate and utilize your new pole barn or she-shed, the professionals at Mansea Metal can ensure your structure stays standing. Our post-frame construction utilizes fewer materials and a simpler design to reduce your costs and get the job done quicker. Additionally, we offer flexible and custom design options so you can incorporate overhangs, porches, insulation packages, and more. The best part about our post-frame buildings? They don't require interior walls for support, so that you can have a fully open-concept floor plan.
Once we've built your post-frame pole barn, consult with us about metal roofing options to make your building as secure as it can be—even in the most extreme weather conditions. What are you waiting for? Let's start building your dream man cave or she-shed today!
Invest in Your Future Fun
At Mansea Metal, we know homeownership comes with responsibility, but it should also come with the perks of being able to create a space you're excited about. With our post-frame construction services, you can have the most popular barn on the block in no time. Contact us today to start your next pole barn project and create an entertainment space you'll never want to leave.
Find a location nearest you.