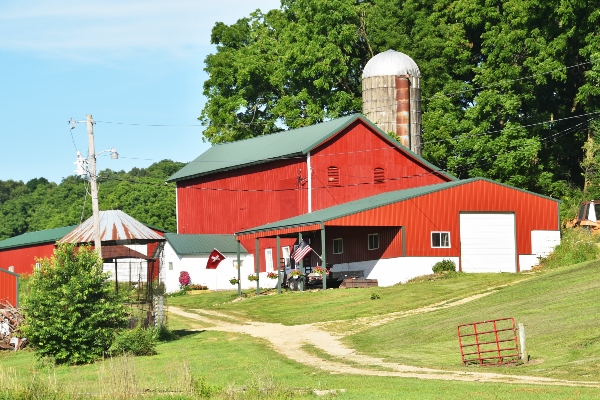 Accessories make a base stand out and give it more functionality.
If you already have a pole barn or are building one, don't forget about its exterior. You can give your pole barn an addition that can shift its look or give it new possibilities to be what you want it to be. Design experts and professional contractors, like those that Mansea Metal partners with, can set you up with the addon that will finish your pole barn.
Keep reading to learn more about some of the most popular exterior additions for pole barns that might be right for you.
Wainscot
A Wainscot is a panel for the side of your pole barn running along your outer wall. This two-tone style can be set off with a darker base to offset your lighter metal paneling. Stone or brick wainscot makes for a fitting offset for a metal backing. Try to match the color of your pole barn's roof to your wainscot. Keep your wainscot below 5 feet.
Cupolas
When you are looking at the top of a barn and you see a small square section, you are probably looking at a cupola. Many cupolas have vents or windows which helps with their main purpose, ventilation of the barn. Other cupolas are only there for decorative purposes. Typically cupolas go with 1.5 inches for every foot of roof. Add a weather vane to get that traditional look.
Widow's Peak
Widow's Peak offers another traditional look for your pole barn. This pointed overhang is a classic look for barns and haylofts. Widow's peak have also been called crow's beak.
Side Porch
Make getting into your pole barn more comfortable with a covered entrance. You can also choose to enclose your porch to give you a chance to be closer to the outdoors even during the cooler months. Otherwise, open rafters offer you the opportunity to feel the breeze while still being protected from any rain - a great point when trying to keep your tools or equipment dry and safe.
Get the Best Materials from a Quality Company
Just as your pole barn has many options, you also can choose from a variety of additions to the outside of your structure. Consider the above options and make sure to chat with a professional contractor while planning your pole barn. For all the top quality metal panels for your roofing, siding, and pole barn needs, consider Mansea Metal. We manufacture all our products in-house and can recommend contractors to bring your project to completion.