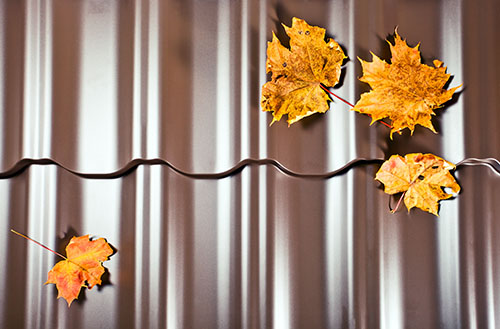 Original Blog Published in 2019
Fall is in full effect and keeping your metal roof protected before winter hits is crucial. A metal roof is one of the longest lasting roofing materials you can purchase and install for your home or barn, but that doesn't mean it doesn't require maintenance. Metal roofing provides support, durability, and a long-lasting solution to protect your home from outside elements—it's up to you to protect your roof from the elements though.
Some homes have metal molded into the shingles while others have sheet metal creating a modern look. Both situations benefit from ongoing maintenance to ensure a long lifespan of your investment. Thankfully, Mansea Metal knows all about metal roofing maintenance. Keep reading to learn our top maintenance tips for keeping your metal roof in pristine condition this fall.
Don't Step On The Metal
Metal roofs tend to be thinner than wooden ones, which means they can easily bend and break. When installing your metal roof, it's important to avoid standing on it, as the centralized weight may cause the paneling to dent. We recommend trying to walk over joists where the structure and support is stronger rather than directly on the metal itself.
Additionally, when maintaining your already installed metal roofing, be sure to inspect it for damage from hail and fallen tree limbs. Just as stepping on the metal can damage it, so can foreign objects. Left unattended, these dents can quickly turn into holes, leaving you with leaks and small critters making the attic their home.
Clear off the Debris
Just like your average shingled roof, metal roofs require cleaning year-round. If you notice any debris such as leaves, twigs, branches, and more, be sure to remove them immediately. We recommend using a brush with soft bristle to sweep unwanted wreckage off the roof. Clearing off leaves, branches, and extra dirt will help relieve additional weighted pressure from your roof, helping to ensure a collapse doesn't occur.
In cleaning the debris, don't forget to clean out your gutters and drains, as well. When left unattended, the combination of leaves and sticks with rain water can cause significant mold growth. If this happens, be sure to use the proper cleaning supplies and eliminate the threat.
Tighten Every Screw
When installing a metal roof, professionals will use metal roofing screws, complete with metal washers. These are used instead of nails because nails can easily become loose, or bed due to heat exposure. Unfortunately, exposed roofing screws can wear out over time, so be sure to tighten all the screws and inspect them as the months go on. If you notice screws are missing, we recommend replacing them immediately, as these help to stop your metal roof from leaking.
When you're replacing your metal roofing screws, you should consider the following:
Prevent breakage by using fasteners with a V-neck shaped strong head

Protect from corrosion by using galvanized screws

Match the color of your roofing panels and other screws
Examine Your Sealants
When professionals install your metal roof, they will seal the seams and edges to avoid gaps and leaks. Though these sealants do last a considerable amount of time, they likely won't last the entire lifespan of your roof. Be sure to check the sealant when you perform your fall inspection to take care of any sealant gaps or rot before the colder months arrive.
Additionally, if you notice rust beginning to form in any of the areas where sealant has decayed, you should call the professionals at Mansea Metal to remove the rust and patch paint to the affected area.
Call in the Professionals
If you've come across additional damage to your metal roof, you'll likely need to call in the experts at Mansea Metal. Avoid damage to your roof and structure of your home by allowing the professionals to fix the issue. We offer superior energy efficiency, longevity, and protection against the elements for your home, barn, or commercial building. Metal roofs increase the value of your property and maintain their beauty and integrity—let us help keep your roof safe from the fall and winter elements.
Give the team at Mansea Metal a call today to schedule your next service or discuss your metal roof installation. Located in Kentucky, Illinois, and Ohio, you won't find a better product, value, or service than with Mansea Metal.