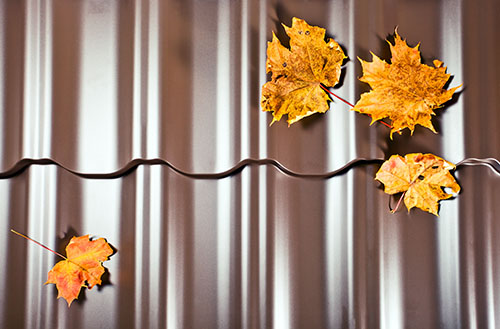 Metal roofing provides support, durability, and a long-lasting solution to protect your home from the elements. Some homes have metal molded into the shingles while others have sheet metal creating a modern look. Both situations benefit from ongoing maintenance to ensure a long lifespan of your investment. Keep reading to learn our top maintenance tips for keeping up your metal roofing.
1. Take a Seat
Metal roofs tend to be thinner than wooden ones. Even if you don't come crashing through your roof, if you stand on it, the centralized weight may cause a dent in the paneling. If unavoidable, try to walk over joists where the structure and support is stronger.
2. Clear off the Debris
Sweep, blow, or spray off anything on your roof. Clearing off leaves, branches, and any extra dirt will help relieve any weighted pressure from your roof. Don't forget to clean out your gutters and drains, as well. If you see any mold growth, make sure to kill it and scrub it away. An annual fall cleaning should do the trick to keep your metal roof look and be as clean as can be.
3. Tighten Every Screw
Make sure to tighten all the screws in your roof and replace any missing ones. Make sure to use the same materials you have on your roof. Make sure not to put screws in lower areas to avoid pooling.
4. Examine Your Sealants
Take a close look at the seams and edges of your roof to ensure there are no gaps. Some sealants will not last for the entire lifecycle of your metal roof. Make sure to check them when you do your fall routine so you can take care of any issues before they come up. Clean up any patch paint areas to stop rusting.
5. Call in the Professionals
After tightening the screws, you may notice some other damage or holes in your metal roofing. These areas will most likely need professional attention. Any holes will allow water and moisture into your home that may damage to damage your roof structure. Take care of these areas now before the winter storm season blows into town, bringing more problems with them. Mansea Metal provides metal roofing, siding, and more for home and business owners.
Give the team at Mansea Metal a call today at (123) 456-7890 to schedule your next service or chat through your metal roof installation.