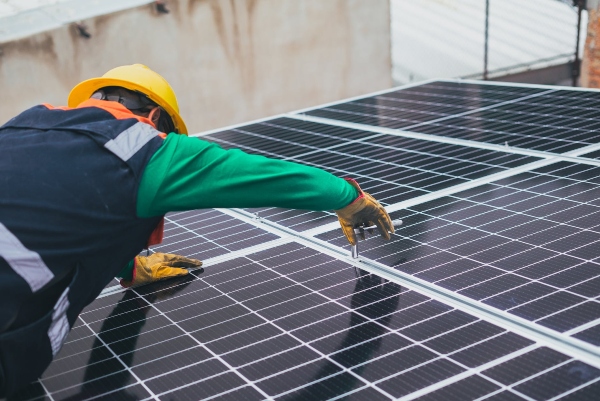 Can solar panels be used on metal roofs? Absolutely. It doesn't matter whether you have a residential or commercial property, solar panels offer numerous benefits. If you add them to your property, you will soon see that you can do your bit for the environment while saving money every month. Want to find out more about solar panels and metal roofs? Keep on reading.
Solar Panels are Easy to Mount
Adding solar panels to a metal roof could not be easier. The only thing that you need is a mounting bracket. This clamps onto the seams in your roof, meaning that it won't damage your metal panels. If you have tile-style roofing sheets on your roof, you simply need to swap out the roof sections and then insert sections that have the mounting bracket built-in. Standing­­­ seam roofs are also ideal for hosting thin solar panels as they are much more aesthetically pleasing and have much fewer emissions when compared to standard solar panels.
Metal Roofing and the Longevity of Your Solar Panels
Metal roofing is far more durable when compared to other, conventional types of roofing. It also has clear benefits in terms of the general installation. Each solar panel can last up to 30 years, and for this reason, it is helpful to have a roof that will not need repairing before then. This is because if you do need to carry out any roofing repairs, you will need to consider the cost of dismounting and then remounting your solar panels. In most instances, if you carry out metal roof maintenance, the roof you have now will outlast the panels themselves, which will reduce both hassle and cost. If you have a metal roof warranty, then this will reduce the cost of maintaining your roof dramatically.
Cooling Benefits and Solar Panel Installation
Another huge benefit of having a metal roof is that it can be coated in reflective paint. This will keep your property cool in summer and it will also greatly reduce your energy bills. If you install solar panels, you will additionally increase the shade, providing you with superior cooling during the hottest summer heatwaves. If you have a metal seam roof, then there are mounting systems available. This will clamp onto your roof, which means you don't need to worry about drilling holes into the metal sheets. Your solar installation will be faster, cheaper, and more efficient when compared to a traditional roof. Of course, as no holes are being drilled, you also don't need to worry about water penetrating your roof during your solar panel installation.
Solar Panel Clamps for Metal Roofs
The clamps are made out of durable aluminum, using a single bolt to fix the clamp. Your clamps will come with a warranty most of the time, but they will usually outlast the solar system, so this is not a concern. If you have a corrugated metal roof, then a different mounting system will be required. Special brackets are attached to the top crest, leaving the lower levels free from holes when it comes to drainage. Top-quality brackets will usually come with gasket seals. They are fixed onto the base so that the installer doesn't have to deal with messy sealant.
Get the Metal Roofing Materials that Will Make Going Solar a Breeze
Going solar is a wonderful, environmentally friendly approach to powering your home or business. Solar panels fit in perfectly with metal panels to provide you with a durable, efficient structure. When looking for the right materials for your metal pole barn, Mansea Metal has you covered. Our individual and full packages make building your pole barn a simple task. Give our team a call today to learn more.