Original Article Published September 19 2019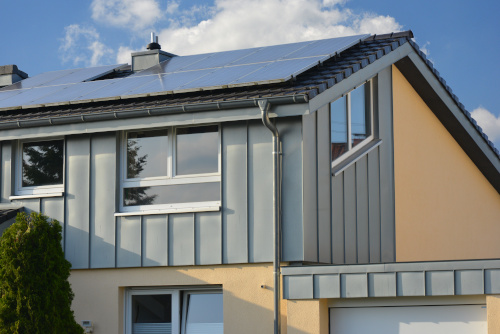 Deciding on the best building materials can be difficult. There are many options to weigh when planning the future of your property. People with commercial and agricultural buildings often turn to corrugated steel panels for long-term solutions to their roofing and siding needs.
Corrugated steel has become a top choice for folks with commercial buildings because of its durability and long-lasting lifespan. In recent years, people have begun to add corrugated steel to their residential homes as well, acting as roofing or siding material.
Discover why corrugated steel is the better choice for your home or commercial building and how Mansea Metal can provide you with exceptional steel siding options.
WHAT IS CORRUGATED STEEL?
Corrugated steel is a popular material that has been in use since the early 1800s due to its prefabrication and easy installation. Today, the process for creating corrugated metal panels has been refined, with cold-forming being the most common method. The panels are flattened and passed through a roll former, where the corrugations are added to the sheet before being cut to length.
Corrugated metal is created by folding the metal into an "s" shape, which makes it stronger and more durable than other metal panel options. This siding option also comes in a variety of colors, shapes, and sizes, making it the preferred choice for both residential and commercial roofing and siding projects. The distinctive look of corrugated metal can add curb appeal to any setting.
BENEFITS OF CHOOSING CORRUGATED METAL SIDING
When choosing metal siding for a building, it's crucial to know the different types of corrugated panels available. There are three variations: corrugated, ½" corrugated, and ribbed metal roofing panels. They're sold at different prices and have varying strengths, which enable you to shield your building from severe weather conditions for years. Corrugated metal siding provides several other benefits, including:
Strong Durability with Corrugated Steel Siding
Corrugated steel has a lifespan of over 50 years, making it highly durable. It can withstand harsh hail, rain, wind, and temperature fluctuations, leading to a significant reduction in energy bills. Corrugated siding is fire-resistant, and pests and water damage cannot affect it because it's a solid, hard surface.
Resistant to Dents & Warping with Corrugated Metal Panels
Corrugated metal panels are highly resistant to elements and impacts, including intense storms such as harsh hail, rain, wind, hurricanes or tornadoes. They're also up to four times less likely to warp or expand compared to vinyl siding and asphalt shingles.
Low Maintenance Corrugated Panels
Corrugated steel siding requires minimal maintenance, making it a popular choice. It only requires spraying down the outside with water to keep it dust-free for the first few decades. Re-coating the siding will help extend its life, and with proper treatment, it can last for more than 50 years.
With its long life and durability, corrugated steel can help you save money in the long run. It's a preferred choice for commercial and agricultural buildings, as well as homeowners, who seek to avoid frequent maintenance and gain value for many years to come.
CORRUGATED STEEL BENEFITS WITH MANSEA METAL
Mansea Metal is the top-rated manufacturer of Metal Roofing, Siding, and Post-Frame Buildings in Kentucky, southern Illinois, and Ohio. For over a decade, their team has been helping homeowners and businesses select the best metal panels for their projects.
Whether you need corrugated metal panels or ribbed metal roofing panels, Mansea Metal has got you covered. They have a wide range of durable and long-lasting metal siding options that are resistant to water, hail, fire, pests, and harsh weather conditions. With their expertise, you can be assured that you'll get the exact type of metal panel that suits your needs.
So, if you're looking for high-quality and low-maintenance metal siding options for your next project, reach out to Mansea Metal today at (859) 744-4475 for their Kentucky branch, (217) 864-5835 for their Illinois branch, and (937) 503-2457 for their Ohio branch.