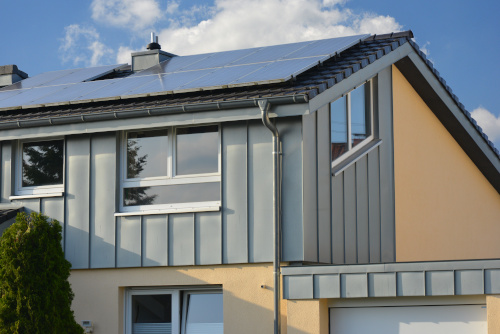 Original Article Published September 19 2019
Deciding on the best building materials can be difficult. There are many options to weigh when planning the future of your property. People with commercial and agricultural buildings often turn to corrugated steel panels for long-term solutions to their roofing and siding needs.
Corrugated steel has become a top choice for folks with commercial buildings because of its durability and long-lasting lifespan. In recent years, people have begun to add corrugated steel to their residential homes as well, acting as roofing or siding material. Discover why corrugated steel is the better choice for your home or commercial building and how Mansea Metal can provide you with exceptional steel siding options.
What is Corrugated Steel?
In the early 1800s, this material became popular due to its being prefabricated and its ability to be quickly and easily added to structures. Skipping ahead to the present, the process for creating corrugated steel sheets has been refined. The sheets are made in a cold-form process, which includes pressing the sheets flat then running them through a roll former. The corrugations, or shapes, get added to the sheet during the roll forming procedure. Once these processes are done, the sheets are cut to the specified length.
Sheets of metal are made stronger by corrugating, or folding the metal into an "s" shape. Because steel already has a higher strength than other roofing and siding materials, the corrugation process further increases this strength. Additionally, corrugated steel comes in a variety of colors, shapes, and sizes—ideal for residential and commercial roofing or siding applications.
Benefits of Choosing Corrugated Metal Siding
When choosing a metal siding for your home or commercial building, it's important to understand the varying types of corrugated panels you can purchase. Corrugated metal paneling comes in three different types—" corrugated, ½" corrugated, and ribbed metal roofing panels. These three variations are available at different price points and strengths, so you can protect your building from severe weather conditions for years to come.
Additional benefits of using corrugated metal siding include the following:
Strong Durability to Protect Your Building
With a lifespan of 50 years or more, you won't have to worry about replacing your siding any time soon. Corrugated steel will withstand pelting of the elements including harsh hail, rain, and wind. Corrugated siding is not affected by temperature fluctuations, so you'll notice a drastic decrease in your energy bills throughout the summer and winter months.
Unlike other siding materials, corrugated steel is fire resistant, and deters pests and water damage. Because the metal sheeting is a hard, solid surface, insects and pests find trouble burrowing in or near the building area.
Resistant to Dents & Warping
Not only does this material resist the elements, but it can also stand up to the impact of objects thrown around during intense storms such as hurricanes or tornadoes. It also is up to four times less likely to warp or expand as vinyl siding and asphalt shingles do.
Low Maintenance
Kick back and relax as your corrugated steel siding will require minimal upkeep. In the first few decades, you will only need to spray down the outside with water to keep the dust away. After these first few decades, adding a re-coating product will continue to extend the life of your siding. Owners who treat their corrugated steel right will typically see their one-time purchase last for 50+ years!
With its long life and sturdy durability, corrugated steel can end up saving you loads of money in the long run. Owners of commercial and agricultural buildings, as well as homeowners, continue to invest in this material to avoid maintenance and gain value for decades to come.
Corrugated Steel Benefits with Mansea Metal
The team at Mansea Metal has been working with clients across Kentucky, Illinois, Indiana, and Ohio to bring sheet metal options to their home and business buildings. Since 2007 we have worked with our clients to get them exactly what they want and need to protect their buildings. Give us a call today at (859) 744-4475 for our Kentucky branch, (217) 864-5835 for our Illinois branch, and (937) 503-2457 for our Ohio branch to learn more about your metal siding options.